1.43 oz Style 1080 Fiberglass Cloth with Silane Finish
1.43
oz
/
sq yd(osy)
Fiberglass
1080
for
Balsa Models
38" and 44"
wide Style
1080
silane for EPOXY resins
Silane finish numbers vary - Photos are for reference only
some in 20 30 50 and 100
yard rolls
on 2" pvc pipe
Shipping has got so high and not having an accurate shipping calculator
we are no longer able to sell any rolls with free shipping.
Email us to
thayercraft@cs.com the roll you want 1-Style, 2-width, 3-finish, 4 yards
and we'll quote you the actual shipping cost
and if you still
want the
roll we'll send a PayPal request.
If you have any problems
enter the individual letters of the email address
thayercraft@cs.com. This email is monitored 24/7.
photo is of CS718 but cloth may be another Silane but guaranteed to be compatible with Epoxy
Silane
Finished 38"
wide Style
1080
1.43
oz/sq yd Fiberglass Cloth
There are many manufacturer numbers for various Epoxy compatible Silanes.
When we ship the 1080, and other cloth, that particular roll will have the
finish number on the labels and on the invoice. Don't assume that what you bought
the last time will be the exact same silane unless you ask for that particular
If that particular silane is not available I will answer you back via email
Note: The CS718 finish is just about gone.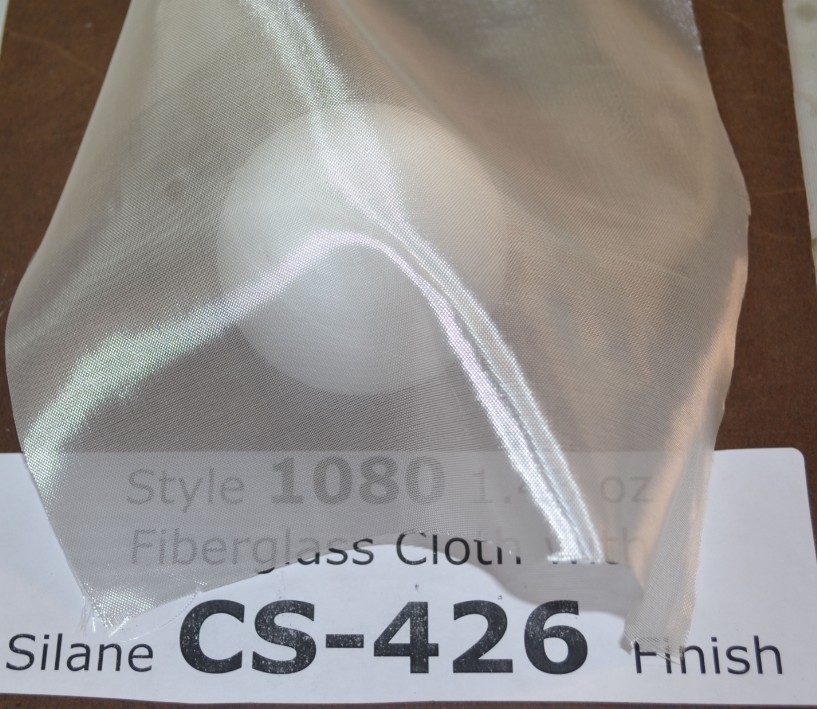 Silane
Finished
44"
wide Style
1080
Style
1080
fiberglass cloth is a
1.43
oz/sq yd plain weave E-glass fabric referred to as the "medium weight" glass cloth in the model industry. As with all fabrics the
finish on the cloth
makes a big difference in the way the fabric handles. Most of the 1080 we've sold thoughout the years has been with
Silanes
with the biggest reason for that being that was what was available. More rarely do we get an identical style of fiberglass cloth finished in BGF's
504 Volan
is, in my opinion, the softest finish on fiberglass cloth in the world. We brought in one large roll we're re rolling to 5, 10, 20, 30 and 50 yard rolls. They are priced 30% higher than
the Silane finished cloth due to it's rarity and higher cost. Important note: There are many different silane numbers for epoxy compatible finishes - having evolved that way with the manufactuers of the fiberglass cloth catering to the much larger indstrial market such as the circuit board industry. We have this cloth because it is what we could get cheap. If we bought the cloth specifying any particular finish the price to us would be more than what we sell it for. If you
need 1080, or any other cloth, with a particular finish number specify that in subsequent orders or in emails to thayercraft@cs.com. It is much easier for me, Steve Thayer, to communicate with email than by telephone. The building I own and operate out of is 370,000 square feet. I'm not sitting in an office with a cigar in my mouth yelling at workers. I am the worker.
I do the forklift, mechanicing and many, many other menial tasks that owners used to get there workers to do back when government didnt pay people to sit at home more than the
private enterprise company could pay them. So please email
thayercraft@cs.com
and remember we're on the East Coast