9.8 oz Style 1800 Fiberglass Cloth with Volan Finish
Open Weaves
stiff 9.8
oz
/sq yd
(osy)
Style
1800
Fiberglass cloth
1800 uses the thicker filament K yarn and for that alone is
somewhat stiffer than 7500. The stiffest cloth in this list is
the 25" with a stiff finish and is priced the lowest
good for polyester or epoxy resins - for FLAT layups only
not good for contours
Shipping has got so high and not having an accurate shipping calculator
we are no longer able to sell any rolls with free shipping.
Email us to
thayercraft@cs.com the roll you want 1-Style, 2-width, 3-finish, 4 yards
and we'll quote you the actual shipping cost
and if you still
want the
roll we'll send a PayPal request.
If you have any problems
enter the individual letters of the email address
thayercraft@cs.com. This email is monitored 24/7.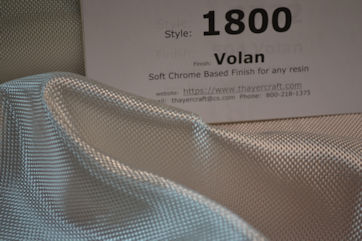 Style 1800 fiberglass cloth is a 9.8 oz/sq yd plain weave boat and tooling type fabric with a thread count of 16 x 14 ends/inch. Style 1800 uses the yarn ECK 18 1/0 in the warp and fill. The "K" glass filament is 13 microns and is much bigger than the 9 micron "G" filament used in style 7500 fiberglass cloth that has the same weight and thread count. The thicker 13 micron filament flatter yarn in 1800 makes it quite a bit stiffer than the similar style 7500. Style 1800 here is finished in pure Volan and will have a green tint. Because it is a much cheaper and stiffer fabric than the style 7500 it is priced lower.