3.22 oz Style 220 Fiberglass Cloth with Silane Finish
Satin Weaves > 3.22 oz 220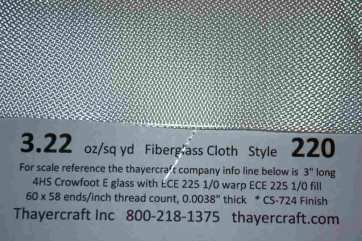 Style 220 is most of the weavers number for the thicker filament 3 ounce crowfoot weave 4 harness satin fiberglass cloth. BGF uses 2220. Style 220 is a 3.22 oz/sq yd 60x58 ends/inch 4 harness satin weave fiberlass cloth that uses the yarn ECE 225 1/0 in the warp and fill. The 220 sold on this page is finished with the clear structural epoxy silane CS724. The 220 with the CS724 is pretty stiff but not quite as stiff as the 2220 with the 460 finish. Attempts to relay the comparative stiffness of the fabrics are done with photos of the 220 and 2220 using a baseball. The 2220 with the 460 won't even come close to forming over the baseball. The 220 with the CS724 silane for epoxy finish is available in 50" in 10, 20, 30, 50 and 100 yard rolls.
3.22
oz/sq yd 4HS Fiberglass Cloth
Finished in
Silane
for Epoxy Resins
rolled on 2" Foam Core PVC pipe.
Shipping has got so high and not having an accurate shipping calculator
we are no longer able to sell any rolls with free shipping.
Email us to
thayercraft@cs.com the roll you want 1-Style, 2-width, 3-finish, 4 yards
and we'll quote you the actual shipping cost
and if you still
want the
roll we'll send a PayPal request.
If you have any problems
enter the individual letters of the email address
thayercraft@cs.com. This email is monitored 24/7.
***Note: Silane finished rolls may have a white polyester fabric to prevent the
corrugated wrap from putting ridges in the fiberglass cloth. The fiberglass cloth