12.2
oz
/
sq yd(osy)
Fiberglass
1564
plain weave
38"
wide Style
1564
finished in
627
silane for any resin
3 factory rolls 109, 120 and 125 yards
6.3.2022 Due to ongoing increasingly higher shipping rates
this cloth does not come with Free Shipping
Send an email to thayercraft@cs.com with the roll or rolls of
cloth you want and address you want it shipped to for a shipping quote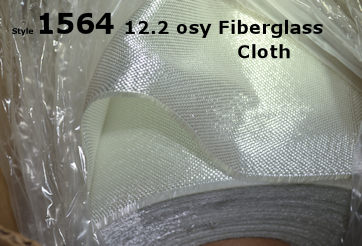 Style 1564 is a plain weave E-Glass made by BGF Industries woven in Alta Vista, Virginia USA. It has a thread count of 20 x 18 ends per inch and uses the ECG 37 1/2 yarn in both the warp and fill. 1564 weighs out at 12.2 ounce per square yard (osy)
and has an approximate thickness of 0.014".