Style 220 3.22 oz 4hs with Volan Finish
Satin Weaves > 3.22 oz 220
3.22
oz
/
sq yd(osy)
Fiberglass
220
60"
wide Style
220
finished in
Volan for any resin
50
and
100
yard rolls
on 2" pvc pipe
Shipping has got so high and not having an accurate shipping calculator
we are no longer able to sell any rolls with free shipping.
Email us to
thayercraft@cs.com the roll you want 1-Style, 2-width, 3-finish, 4 yards
and we'll quote you the actual shipping cost
and if you still
want the
roll we'll send a PayPal request.
If you have any problems
enter the individual letters of the email address
thayercraft@cs.com. This email is monitored 24/7.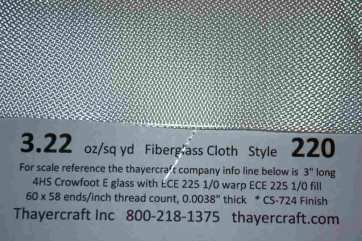 Style 220 fiberglass cloth is the common 3 ounce crowfoot weave similar to style 120 but with the thicker glass filament. Style 220 fiberglass cloth is 3.22 oz/sq yd, four harness satin weave, E-glass fiberglass with a thread count of 60 x 58 ends, inch that uses the ECE 225 1/0 yarn in the warp and fill.
The "E" glass filament is 7 microns where the similar style 120 fiberglass cloth uses the "D" glass filament that is just 5 microns. For that the 220 is a bit firmer than the 120. The style 220 with Volan is as soft as this cloth gets. We have the style 220 with the Volan finish in 50 and 60" width in 50 and 100 yard rolls rolled on 2" pvc and professionally packed as always. Free shipping to the 48 continental United States. The "yards" as it pertains to the roll pricing is in linear, or running yards.