9.6 oz Style 7500 Fiberglass Cloth with Silane Finish
Open Weaves
9.6
oz
/sq yd
(osy)
Style
7500
Fiberglass cloth
16 x 14 ends/inch ECG 37 1/2 yarn warp and fill
20"
wide Style 7500 with the soft
504 Volan
finish:
Shipping has got so high and not having an accurate shipping calculator
we are no longer able to sell any rolls with free shipping.
Email us to
thayercraft@cs.com the roll you want 1-Style, 2-width, 3-finish, 4 yards
and we'll quote you the actual shipping cost
and if you still
want the
roll we'll send a PayPal request.
If you have any problems
enter the individual letters of the email address
thayercraft@cs.com. This email is monitored 24/7.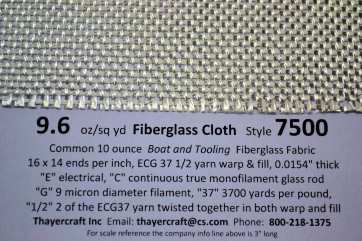 Style 7500 is a 9.6 oz/sq yd boat and tooling type fiberglass cloth. 7500 uses the ECG 37 1/2 yarn in the warp and fill. The "G" filament used in 7500 being just 9 microns, versus the much larger cheaper-to-make 13 micron "K" filament used in style 1800 of the same weight and thread count, makes for a very flexible cloth. The two major finishes we have available of the style 7500 is the universal silane 627 from BGF and their
504 Volan.
The 627 is on most of the tape rolls also. Volan, especially BGF's superb 504 Volan, is the softest of all finishes we sell. Here's a
video showing how the finish effects the handling
of any particular style of fiberlass fabric